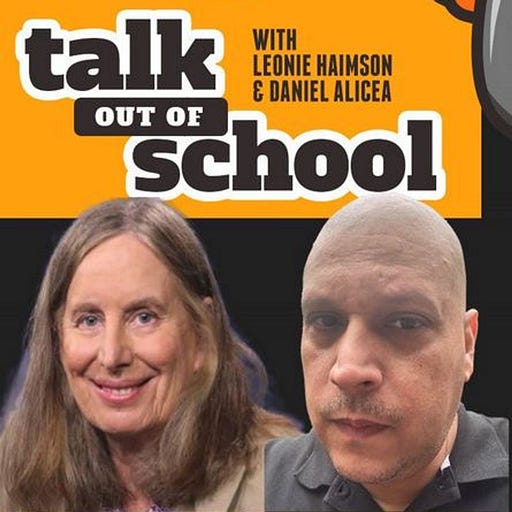 Aug 28 • 58M
Talk Out of School Podcast: A Conversation with Dr. Bettina Love; Also with the Parents of PIST NYC
Dr. Love shares her latest book, 'Punished for Dreaming: How School Reform Harms Black Children and How We Heal'. Also, NYC school parents share concerns about the looming school bus strike.
A weekly podcast and radio show on WBAI 99.5 FM NYC, hosted by Leonie Haimson of Class Size Matters, and Daniel Alicea of Educators of NYC. We speak about the issues and controversies affecting public schools and public education in New York City, statewide and nationally.
Episode Summary
Daniel interviewed, Dr. Bettina Love. She is an award-winning author, professor at Teachers College, Columbia University, and beloved activist. She's also the co-founder of the Abolitionist Teaching Network (ATN).
Dr. Love is the author of the forthcoming book, Punished for Dreaming: How School Reform Harms Black Children and How We Heal.
It's published by St. Martin's Press, and will be released on September, 12th.
We discussed her new book, the latest article at Education Week, her work the ATN and the upcoming book tour events in NYC. Daniel also spoke to several parent advocates of Parents to Improve School Transportation (PIST NYC) about the persisting issues over the school bussing crisis, and the possible NYC school bus strike that would impact thousands of school children, especially our students with disabilities.
---
Episode Notes
Order her new book: Punished For Dreaming
Education Week article: Stop Talking About 'Gaps' in Education—Talk About Harm: Call it what it is
Sign the Petition: Demand the Mayor and Department of Education Meet Their Responsibilityto Transport our NYC Students to School
ABC News: Possible school bus driver strike could leave New York City families in limbo
NYC 311 advisory: Potential Yellow School Bus Strike
---
---
---
The Wire: Powered by Educators of NYC is a reader-supported publication. To receive new posts and support our work, consider becoming a free or paid subscriber.